Savage enough to win you over with its energetic euphoria yet manageable enough to have a session before you pick up your in-laws at the airport.
STRAIN: Savage Purple
MEDIUM: Flower
POTENCY: Med-High
(THCa 19.7% THC 0.7%)
PRODUCER: Culta
CLASS: Indica Dominant Indica/Sativa Hybrid
PURCHASED: Mission Catonsville Medical Dispensary
INSTAGRAM: @missioncatonsville
LINEAGE: SFV OG Kush X Purple Urkle
SFV Kush =unknown (rumored to be Chemdog X Hindu)
Purple Urkle= a California strain who's origins are rumored to originate from a clone of 'Mendocino Purps'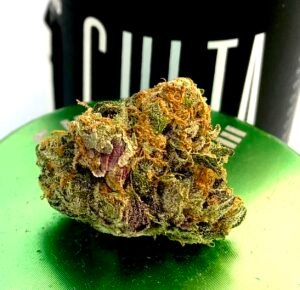 EFFECTS (MIND + BODY)
At 20% THCa, Savage Purple provides a functional tint of uplifted cerebral euphoria to your day making you both relaxed and focused- mellow yet productive.
I would definitely classify this as very good "Dad Weed" within this low to mid 20% bracket:
Savage enough to win you over with its energetic euphoria yet manageable enough to have a session before you pick up your in-laws at the airport.
However, at higher doses, Savage Purple can cause a sometimes absent – minded Brain-Haze leaving you a little spaced out and a bit absent-minded. For morning and daytime use, I would recommend a cup of coffee with your Savage Purple.
MIND;
+mild sensations of uplifted euphoria
+Improved /heightened focus/ attention to detail
+Tension release
+amplifies/ inspires enhanced creativity / creative thinking in creative individuals
BODY;
+ light to medium cranial and facial pressure
+dry eyes
+physical euphoria (in waves)
-dry mouth at higher doses
-/+ some appetite stimulation (even though Humalene, a known appetite suppressant is on the list of included terpenes, there doesn't seem to be enough to suppress.
"Savage Purple...offers a  balanced uplifted cerebral energy and enhanced focus while a calming body high alleviates tension and calms frayed nerves but will not initially lull you to sleep...basically, California in a Container..."
APPEARANCE, AROMA + TASTE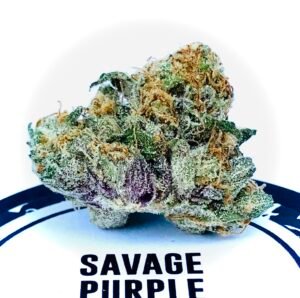 APPEARANCE:
Good For Bowls and rolls when properly ground.
Savage Purple by Culta showcases a complex mix of light to dark greens and purples. The purple is less frequently occurring and mostly seen on the sugar leaves surrounding the bud. It can also be seen upon opening a bud to expose its middle.
But, what purple is present is a vibrant violet- lavender color offsetting the abundance of resinous crystalline trichomes which are thickly covering the surface and glisten in the light.
The bright orange stigma/pistils/"hairs" are found in clumps spread evenly throughout the surface in varying degrees of clusters.
AROMA:
Sweet- artificial lemon /lemon drop candy

Citrus- lemon

Culinary – grape seed oil popcorn (upon combustion of flower )
TASTE:
Sweet-slight artificial orange slice candy/tangerine flavor (sometimes at half- combustion and through a nasal exhale)

Herbal- lemongrass

Chem-slightly artificially sweet Pledge lemon polish -like flavor (upon exhale)
A CLOSER LOOK INSIDE:
Top Terpenes:
1. Myrcene .53%
2. Limonene .4%
3. Linalool .2%
This level of Limonene is a always a sure sign to me whether or not a strain may or may not be able to elevate my mood. Savage Purple, like SunMed's Sunshine #4, and Strane's Cake & Chem, really elevates my mood.

This level of Myrcene often pushes hybrids into Indica dominant hybrids in the realm of effects. This batch of Savage Purple is no different.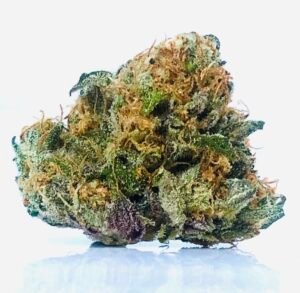 CONCLUSION:
Savage Purple is a mellow blend of two West Coast strains, SFV OG Kush X Purple Urkle. It offers a  balanced uplifted cerebral energy and enhanced focus while a calming body high alleviates tension and calms frayed nerves but will not initially lull you to sleep…basically,
California in a Container…

Culta's rendition of this West Coast classic, is true to its lineage and it provides a decent amount of cerebral stimulation highlighted by feelings of well-being and somewhat of an upbeat euphoria. 

THE LONG WAY HOME (my toke…)
Savage Purple , at least at 20%, offers quite mild, but enjoyable high. a soothing and stress relieving Indica body high that can calm frayed nerves and induce a higher level of mental focus
Counter indicative of its name, which suggests a potent and powerful frenetic and psychoactive experience, I would classify this as "Dad" weed. Yes, you will feel medicated but you will be able to still perform any activity with ease and zero self analysis.
There is some cerebral stimulation but without any overwhelming racing thoughts.
It is the kind of strain that will not inhibit you from performing all your duties but with a slight tint in color and texture of your world while doing so… so to speak. I would like to try Savage Purple at a higher level of potency
I think that Savage Purple provides an enjoyably mild to medium short term almost mellow cerebral high, which transitions into a more pervasive physically relaxing,yet non-sedative body high for the remainder of the experience. A very enjoyable
This physical relaxation frees the mind to tangentially associate and wander while simultaneously increasing the brain's ability to relax and focus intently without any of the heart and brain race that accompanies many Sativa strains which can enhance creativity or focus.
I initially considered this strain because of that name, but what interested me further were it's West Coast origins. Having grown up and living my adult life on the East Coast, West Coast strains always carried a certain mythos. And I believe many of us, to this day, view these Northern California strains the benchmark of the cannabis experience. to this day…and probably with good reason since some of these strains have been cultivated for decades in the same geographic conditions and further refined as the generations passed.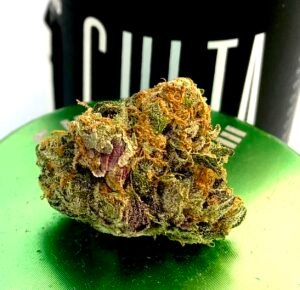 But, what really made me pull the trigger on this strain, especially after finding out it was testing at just below 20%, was the terpene profile. I saw more Limonene than usually found in Indica strains. So, I hoped that this Indica would be another of what I consider to be an "Active Indica" or a "creative Indica".
Savage Purple definitely satisfies this criteria especially with its SFG Kush parent.

San Fernando Valley OG, or SFV OG for short,
carries with its genetics a certain amount of Sativa effects. Along with Purple Urkle, another California strain created from a clone of Mendocino Purps, yet another California/ West Coast Strain, which is known for its relaxing effects, which definitely contribute to Savage Purple's Indica bliss.
I would most definitely purchase this strain from Culta again. I am looking forward to the next batch.