STRAIN: Santa Cruz Blue Dream
MEDIUM: Flower
POTENCY: Med-High
(THCa 21.95 / THC0.69%)
PRODUCER: Evermore
CLASS: Sativa Dominant Hybrid * the indica-lean of this Blue Dream should not be underestimated.
Santa Cruz Blue Dream  has a distinctly more Indica feel than other offshoot Blue Dream variants.
NOTE: This is actually the original Blue Dream first bred in Northern California not the run-of-the-mill you may see. Don't let the inclusion of "Santa Cruz" fool you.
PURCHASED: Ethos (Mission*) Catonsville Medical Dispensary*
INSTAGRAM: @missioncatonsville
*The batch of Santa Cruz Blue Dream was purchased while this dispensary was still Mission. Formerly Mission Catonsville Medical Dispensary, Mission is now Ethos Catonsville Medical Dispensary at of 09/29/20.
NOTE: The staff at Ethos, formerly Mission is the same incredibly warm and knowledgeable staff. Nothing has changed but the name as far as I can tell. This includes employees, management, product lines, and reward points incentives. Still my favorite dispensary because of the staff.
LINEAGE: DJ Short Blueberry x Super Silver Haze
NOTE: This seems to be the original crossing of Blue Dream created in Northern California
EFFECTS (GEN., MIND + BODY)
 
GENERAL EFFECTS: immediate cerebral stimulation and mental euphoria grounded by some strong waves of physical relaxation that is mostly non-sedating except in higher doses.
MIND;
+immediate cerebral stimulation

+mental euphoria

+uplifting sense of awareness

+feeling of being "comfortable in your skin"
BODY;
+ light to medium cranial and facial pressure* this was barely noticeable, and did not affect my high.

+muscle relaxation

+mild initial inner body warming sensation

-some dry "cotton"  mouth

-more sedative than average Blue Dream and Sativa strain varieties in general

-dizziness and propensity toward sleep at higher doses 
"...I am tempted to say this (Santa Cruz Blue Dream by Evermore) felt like a straight 50%/50 Indica/ Sativa during a few sessions ...Definitely a dreamy experience."
APPLICATION (MEDICINAL + RECREATIONAL):
MED;
could aid in mitigating or alleviating symptoms of:

anxiety

depression

fatigue

headaches
REC;
well suited for creative endeavors

social situations

watching movies, cleaning house, etc.

promotes and deep relaxation upon successive sessions/higher doses, and eventually sleep 

a very flexible high aside from the sleepy feelings it may enhance if you are already lacking needed sleep or if ingested at higher doses
APPEARANCE, AROMA, TASTE :
APPEARANCE:
Typical Blue Dream bud structure: loosely packed medium sized elongated buds that have an unassuming, almost immature appearance. Bright green calyx covered in mature, robust, and spindly orange stigma are in abundance. There seems to be a bit more trichome crust interspersed over the buds' surface than one would normally expect from Blue Dream.
Evermore's Santa Cruz Blue Dream is a classic Blue Dream with something extra from its Super Silver Haze genetics, which is , a genetically engineered strain comprised
includes the classic Indica heavy hitter, Northern Lights, which is one third of its Super Silver Haze genetics.
Good  For Bowls and Rolls: Very easy to break up for spliffs, bongs, and vapes. Crusty, airy, buds.
AROMA:
peppery

blueberry cream aroma
TASTE:
pine blueberry with a creamy finish
The level of Pinene at .387% adds to the uplifting euphoria of this strain. The relaxation levels are really astounding levels for a "Blue Dream". 
Considering this is the original Blue Dream you can see why the word "Dream" is part of its name.  You can thank the .633% of Beta-Myrcene and .197% of Beta- Caryophelene .197% for this.
Seriously, I am tempted to say this felt like a straight 50%/50 Indica/ Sativa during a few sessions with Evermore's Santa Cruz Blue Dream. Definitely a dreamy experience.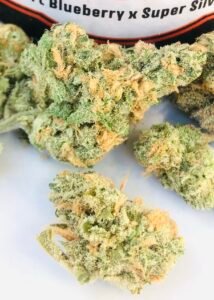 CONCLUSION
Santa Cruz Blue Dream, is the original Blue Dream comprised of genes from Blueberry X Super Silver Haze with effects that are uplifting, euphoric, cerebrally stimulating along with a potent Indica-type effect that lulls you into a very physically and mentally relaxed, mellow and state promoting sedation and promoting sleep.
THE LONG WAY HOME (my toke)
I was surprised at the sedative quality and the indica-type effect it has overall.
I purchased this because I like to have Blue Dream on hand: it is very effective for migraine symptoms and I like the way it creatively inspires without crowding my head.
I was happy with Evermore's inclusion of the genetics on the label, since Santa Cruz a distinct, and different strain.
Evermore's Santa Cruz Blue Dream has an Indica effect that soothes muscle tension and , at higher doses, can aid in sleep.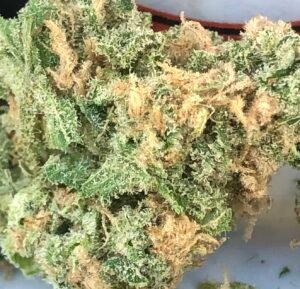 This is attributable, in my opinion, to its Super Silver Haze parent, which is a purposely bred sativa -Indica Hybrid genetically comprised of Original Haze x Skunk #1 x Northern Lights #5, the classic Indica heavy hitter. This along with the inherent relaxing effects of the Blueberry genetics really push this into a Sativa /Indica Hybrid contrary to its designation as a "Sativa Hybrid" indicating to me a more dominant Sativa influence.
Evermore delivers again with another fantastic strain. I've never been disappointed by their flower. In fact I find it to be some of the most superior cannabis I've ever ingested.
Recently, I've been blown away by their Blue Cookies and Tropical Sunset.
Santa Cruz BD is right up there with them.
I definitely wouldn't say this is a typical Blue Dream because of its heavy Indica leanings.
The Blueberry genetics really seem to this enjoyable, hard hitting strain, rich in terpenes, flavor, and aroma, with the ability to creatively inspire and elevate but ultimately soothe your body to sedation and promote sleep.
5/5 Evermore.