STRAIN: Yuck Mouth
PRODUCER: Grassroots
PURCHASED: Mission, Catonsville
MEDIUM: Flower
POTENCY: MED (THCa 20.1% /THC n.d.%)
CBGa 1.4%, CBG 0.2%
CLASS: Indica dominant Hybrid
LINEAGE: GMO Cookies X Dosidos #22
AWARDS: N/A
GENERAL EFFECTS (MIND + BODY):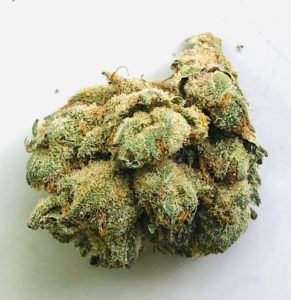 MIND;
+Cerebrally uplifting (Standout Effect)
+Strong "head buzz" sensation upon exhale
+Enhances creativity
+Increases focus
+fosters feelings of well being/sensations of mental euphoria
+Relieves Tension / Stress
+Sensations of Euphoria
*in higher doses/IMO
BODY;
+ Indica body "buzz" sensation as effects settle in
+muscle tension relief
+ocular pressure
+sensations of physical euphoria
–dry "cotton" mouth
+/–Somewhat sedative/ sleep inducing*
*in higher doses/IMO
BEST USED: All Day.  Yuck Mouth goes well with just about any activity requiring a focus, but this is better handled in small doses. Over medicating with Yuck Mouth can potentially shift you from focusing to staring.
USES (MED. + REC):
MEDICINAL;
Anxiety

ADD/HD (Attention Deficit Disorder)

PTSD (post traumatic stress disorder)

Irritability , stress IED (intermittent explosive disorder)

Depression

Sleep disorders/ inability to sleep
RECREATIONAL;
Creative endeavors/ pastimes/ hobbies (especially those benefiting from extended periods of focus and concentration

Meditation
APPEARANCE, AROMA & TASTE: what seems to be some seemingly unkempt bud upon first glance is rather intricate and optically pleasing upon further inspection.
Good For Bowls and Rolls:
Somewhat easy to break up for spliffs, bongs, and vapes once it's completely dried out. Buds are dense but fairy easy to work with but definitely require grinding
AROMA:
Sweet-orange /lemon(?)

Earthy- pine/grass

Alcohol-slight undercurrent note of wine/ wine grapes from RC
TASTE:
Sweet-lemon

Earth- slight undercurrent note of wine/ wine grapes from RC

Herbal-ground black peppercorns

Citrus – orange

Chem-undertone aroma of wet latex paint**

Sweet-nondescript sugary taste

Artificial Misc.-buttered popcorn




** only present in gram 3 of 3 purchased separately
A CLOSER LOOK INSIDE….
What really stands out here is the 0.48% of Limonene. This would account for this batch of Yuck Mouth's energizing uplifting effects. The .37% of Myrcene and 0.48% of beta-Caryophyllene provide jsut the right amount of muscle tension relief and relaxation.
Eudesmol, which can act as an appetite stimulant is 0.04% but I did, indeed, feel that my appetite was stimulated. However Humalene, another less commonly seen terpene known is 0.11% and unlike Eudesmol, it is a known appetite suppressant, as well as being an antibacterial and an effective anti-inflammatory.
Also, as seen in Chemdawg 91 by Verano, Linolool is present here at decent 0.19%. Linalool gives most flowers and spices their aromas such as lavender and coriander, and is notorious for its calming effects. There have been studies that have shown that Linalool can reduce elevated stress levels to almost normal conditions.
CBGA, a non-psychoactive cannabinoid, which is known to inhibit cell growth in tumor/cancer cells, and promote bone growth is present at 0.80%!
CBG, which can reduce inflammation, pain, nausea and decelerate the proliferation of cancer cells is respectable 0.20%.
CONCLUSION:
Yuck Mouth is a complicated Indica hybrid cross of Ray Charles X GMO Cookies(Garlic Cookies) which can produce a complex set of effects contraindicated by its parentage including an uplifting and energized increase in alertness and focus along with some physical relaxation and muscle tension relief.
THE LONG ROAD HOME (My Toke…)
Yuck Mouth by Grassroots seems to be the rebellious offspring two Indica heavy giants, bent on displaying behaviors unbecoming of its parents. After all, it's difficult to find two strains that exemplify the Indica body high /"Tractor Beam couch lock capabilities of likes of Ray Charles AND GMO cookies.
Yuck Mouth has way more energy than its sleepy parents and will have you invested in your present activities and mindset well before you realize it.
Yuck Mouth reminded me more of a Diesel strain, like Harvest's Sour Diesel #5 or Amherst Sour Diesel by Curio, but the probably the former more so than the ladder because of its stronger Indica effects. Don't get me wrong, Yuck Mouth definitely has this Indica effects, but despite its lineage, it is also quite inspiring and energizing. 
I would purchase Yuck Mouth again. It has only been available in gram quantities and so far I've purchased three.
I will however be on the lookout for a higher potency closer to that of Grassroots more potent strains like Motorbreath.