"Pelirroja's cerebrally energized and uplifted euphoria are anchored by a mild, yet steady flow of relaxing physical effects."
STRAIN: Pelirroja
MEDIUM: Flower
POTENCY: Med-High
(THCa 23.30%/ THC 0.50%)
PRODUCER: Grassroots
CLASS: Sativa Hybrid
PURCHASED: Ethos (Mission*) Catonsville Medical Dispensary*
*formerly Mission Catonsville Medical Dispensary, currently Ethos Catonsville Medical Dispensary

LINEAGE: Red Headed Stranger X Sour Diesel
EFFECTS (MIND + BODY)
MIND;
+immediate and lasting sensations of uplifted mental euphoria

+Improved /heightened focus/ attention to detail

+amplifies/ inspires enhanced creativity / creative thinking in creative individuals

+Relieves mental stress

+mitigates irritability
BODY;

+ light to medium cranial and facial pressure

-dry eyes*

+some minor but lasting physical euphoria

-dry mouth*

-/+ minor appetite stimulation
*=at higher doses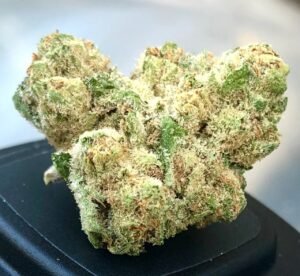 APPLICATIONS (MEDICINAL + RECREATIONAL) 
MED; may help mitigate or alleviate symptoms associated with the following
Anxiety symptom relief

Stress relief

ADD (Attention Deficit Disorder

Nausea

Depression or depressive thoughts
REC; a very flexible, mostly cerebral, strain that can enhance almost any activity
Creative endeavors

Outdoor activities

Repetitive tasks are more enjoyable

Reading/Watching movies/gaming/etc.
Pelirroja, or "Red Hair" translated to Spanish, is named after a classic album Red Haired Stranger by American songwriting legend Willie Nelson, who is himself a longtime cannabis user, advocate, and now, Cannabis farmer, and…a redhead.

APPEARANCE, AROMA + TASTE
APPEARANCE:
Pelirroja has a lot of visual appeal. The vibrance of the green leaves of the buds was the first thing that grabbed my attention.  The rusty reddish-orange pistils/stigma/"hairs" which give this strain its name (Whilst simultaneously giving nod to Willie Nelson's iconic album "Red Haired Stranger) were found randomly dispersed in clumps, each strand robust with milky resin. The trichomes were evenly and abundantly blanketing the surface and a crystalline white hue.
Good For Bowls and Rolls when properly ground.
Pelirroja is one of the strains with certain traits so loudly expressed it is reflected in its name. Pelirroja (direct translation "red hair" ) is just one of these. This strain's bright red, resin-soaked pistils/stigma/ "hairs" are quite stunning.
AROMA:
Sweet- artificial lemon /lemon drop candy

Citrus- lemon

Culinary – grape seed oil popcorn (upon combustion of flower )
TASTE:
Sweet-slight artificial orange slice candy/tangerine flavor (sometimes at half- combustion and through a nasal exhale)

Herbal- lemongrass

Chem-slightly artificially sweet Pledge lemon polish -like flavor (upon exhale)
CONCLUSION:
Pelirroja strain, named after the classic album Red Haired Stranger by Willie Nelson, is a Sativa hybrid cross of Red Headed Stranger X Sour Diesel with effects ranging from a rush of uplifted cerebral stimulation balanced by a soothing backdrop of relaxing mellow body high effects that are non-sedative.
THE LONG WAY HOME (My Toke…)
I found Pelirroja to be quite an enjoyable Sativa.  For one thing, it provides an notable increase in one's ability to focus. This is by far Peliroja's greatest strength and most notably psychoactive effect in my opinion. There is definitely some elevation of mood when medicating with Peliroja. 
Pelirroja a good choice for patients who deal with anxiety and would normally shy away from high-energy, potentially anxiety producing Sativa strains. I experienced no mental jarring from Pelirroja, even in larger doses. It simply seemed to progressively become more mellow while retaining its ability to help me focus. 
Indeed, the cerebral stimulation brought about by this strain is anchored by a very mellow, but steady and non-sedating body high.  Pelirroja seems to be the type of Sativa that will pick you up, give you purpose and focus, and set you gently back down where it found you.  I just didn't find myself feeling sedated or even "couch-locked" in the least. 
I would, and will, purchase Pelirroja by Grassroots again.  It is an ideal strain for morning and daytime use providing a functional yet euphoric tint to your mood. 5/5