STRAIN: Cake & Chem
PRODUCER: Strane / Liberty
MEDIUM: Flower
POTENCY: MED (THCa 32.1% /THC 1.8%)
CLASS: Indica dominant Hybrid
LINEAGE: Wedding Cake X Stardawg
FROM LIBERTY VIA INSTAGRAM: "Hi there, thanks for reaching out! Cake N Chem is simply meant to be: the mouthwatering flavor and beautiful bag appeal of Wedding Cake matched with the potency and heavy yields of Stardawg. Famous in-laws (genetics) include Triangle Kush, Animal Mints, Girl Scout Cookies and Cherry Pie. The result tangy and sweet, with notes of earthiness and pepper."
PURCHASED: Ethos Dispensary Catonsville/ formerly Catonsville Mission Medical Dispensary 
"Cake & Chem is truly an all-day kind of hybrid that seems to enhance most any situation's dynamic and mood."
EFFECTS (MIND + BODY)
MIND;
+

Uplifting/ energizing +strong cerebral stimulation

+

Definite "head buzz" feeling

+

Increased ability to focus

+

Sensations of euphoric calm
BODY;
+

Definite "body buzz" feeling

+

Cranial and facial pressure

+

Sensations of physical euphoria

+

Potentially arousing**

–

Dry "cotton" mouth

–

Dry eyes

+

/–

M

ild increase in appetite**

+

/–

Sedative / sleep inducing**

–/

+

Some haze-daze **
**=in higher doses/IMO
APPEARANCE, AROMA, + TASTE: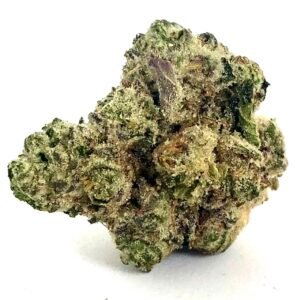 APPEARANCE;
I've often compared the optics, effects, and other traits of strains to that of Cake & Chem not realizing I was remiss about posting an actual review of Cake & Chem.
I'm usually make distinctions of a strain's overall structure by a Cake & Chem comparison. Usually, it's in reference to Cake & Chem's sheer density  and its propensity to cure in almost small conical and crown shaped buds.
The dark crimson red stigma/pistils ("hairs") which are so intertwined with the bud that they seem to be fused together are quite spindly at times.
The trichome coverage consists of very tiny-but-shiny sugary crystals which also seem to be emulsified in the bud.
Its bud structure presents a dense, crusty, multi-colored treasure trove of stigma and trichome content. It is a densely cured and very compact. There literally seems to be no space in this flower. It is consistently rock-hard and dense as a cannabis bud can be.
Good For Bowls and Rolls:
Somewhat easy to break up for spliffs, bongs, and vapes once it's completely dried out. Buds are dense but fairy easy to work with but definitely require grinding at first just so the resinous material isn't compromised.
It didn't clump together into smaller nuggets like Pie Crust (Grow West). But it's still best when broken down with a grinder.
AROMA:
Sweet-lemon/ orange(?)

Earthy- pine

Fuel- hash -like aroma at times
TASTE:
Citrus -mild orange/lemon

Fuel- hash-like taste on exhale

Sweet- cinnamon-sugar type taste at times 

Musky-undertone of hash-taste upon exhaling
APPLICATIONS (MEDICINAL + RECREATIONAL:
MED; Cake & Chem may help mitigate or alleviate some symptoms associated with:
ADD/HD (Attention Deficit Disorder)

Sleep disorders

Anxiety

PTSD (post traumatic stress disorder)

Anger, stress IED (intermittent explosive disorder)

Depression

Sleep disorders/ inability to sleep
REC;
Creative endeavors/ pastimes/ hobbies (especially those benefiting from extended periods of focus and concentration

Cake & Chem offers such a wide palette of balanced effects that almost any activity is enhanced
BEST USED: Cake & Chem is truly an all-day kind of hybrid that seems to enhance most any situation's dynamic and mood.
Depending on tolerance, dosage, and potency, Cake & Chem is sort of a blank canvas in my experience and can be energizing or sedative depending on these factors. I run the risk of calling it a generic strain for that reason. But I have a special place for Cake & Chem, I must admit. Mostly, because it has helped me personally.
CONCLUSION:
Cake & Chem is a potent psychoactive Indica leaning Indica/ Sativa hybrid cross of Wedding Cake and Stardawg capable of producing feelings of energized mental euphoria, relief from stress, and deep physical relaxation, which can evoke a state of relaxed sedation and calm delight and possibly sleep with successive sessions.
THE LONG ROAD HOME (My Toke…)
Cake & Chem, what can I say. This is by far one of my go to strains. It is consistent in almost every aspect from optics to effects every time I purchase it.
This batch of Cake & Chem from Mission in Catonsville was consistent with the last ounce I purchased (in half of which was in increments of 1/8 ounce quantities). It is always a stunningly beautiful and visually complex flower without a severely pungent aroma (the one thing critics could say is missing from Cake & Chem).
And while being still within the brackets of consistent, the most recent batch was notably a bit more vibrant in color. On the same note, it seemed to have more of a psychoactive effect than previous batches. It wasn't that it was any more speedy but rather a bit more dreamily psychoactive.
But, just like all of the other Cake & Chem batches I've purchased, the overall experience was almost predictably segmented into two portions: the energized Sativa mental uplift and clearing of stress which after about 30-40 minutes transitioned into a very relaxing Indica body high that brought about a feeling of calm delight and eventually a peaceful sedative and restful sleep.
I will continue to purchase Cake & Chem from Liberty/Strane whenever it is available. It is very consistently cured and always very potent over the 30% range and rich in terpene content. Interestingly, many times it's Cake & Chem that helps provide the focus for the work I do for mdcannabisreviews.com and Instagram. It is a very functional strain for me personally.
Bravo Strane 5/5 for maximum consistency of cured state, aroma, taste, and effect. A Very Reliable go to strain for the Maryland MMCC population.