"...although deeply sedative overall, include an increase in mental focus and uplifted euphoria from its Durban landrace roots."
STRAIN: OG Kush Breath aka OGKB
MEDIUM: Flower
PRODUCER: Curio
PURCHASED: Ethos (Mission*) Catonsville Medical Dispensary*
INSTAGRAM: @missioncatonsville
*Formerly Mission Catonsville Medical Dispensary, currently Ethos Catonsville Medical Dispensary
POTENCY: High
THCA- 30%/ THC- .30%
CLASS: Indica dominant Hybrid
LINEAGE: Durban Poison X Florida Kush
OG Kush Breath is a variety of Girl Scout Cookie (GSC)
TOP TERPENES:
1. Limonene-.59%
2. B-Myrcene .57%
3. Caryophyllene .32%
4. Humalene .20%
EFFECTS (GENERAL, MIND + BODY)
GENERAL;
Cerebral euphoria (medium)

Physical euphoria (high)

Muscular tension release (med-high)

Can help alleviate stress and reset mood albeit more sedative
MIND;
+mild creative stimulation/ inspiration felt

+some cerebral euphoria

+uplifting "happy", euphoric feelings* *compounded by the nice even and long-lasting body buzz

+ increase in ability to focus

-/+decrease in mental clarity/ can cause some "brain-haze" and drowsiness *

+/- highly sedative/ increases potential for sleep

+/-mild appetite increase




*at higher doses
BODY;
 +ocular and facial pressure *remained for most of the high-felt like a headband strain at times but the pressure seemed focused mostly toward the bridge of my nose.

+medium to heavy head "buzz" / airy feeling

+mild appetite stimulation

+ultimately physically relaxing

 -some dry mouth

 -/+sedation and eventually sleep*




*at higher doses
APPEARANCE , AROMA, & TASTE :
APPEARANCE;
OGKB is definitely a pretty flower. The buds I received in the eighth I purchased from Ethos/Mission was comprised of very small dense buds, mostly rounded and oblong in shape. This is consistent with my overall experience with OGKB in the past. The deep crimson robust stigma/pistils/"hairs" are found in plentiful clusters covered in resin and heavily contrasted by the deep green hues of the surrounding leaf material.
…Good For Bowls and Rolls… 
Small to medium sized buds are actually more dense than they appear. This strain is best broken down using a grinder..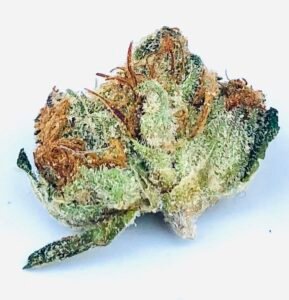 NOTE: OGKB is interesting in that its aroma before and after grinding are quite different.  This also holds true for its inhalation aroma and its exhalation taste.  Before breaking up OGKB exhibits more fruity, nutty aromas. But, upon grinding a spicier-type aroma begins to take shape. Likewise, the inhalation of OGKB presents an almost citrus/berry-type taste, yet its exhale presents a spicier, sage-like  before and after aroma.

AROMA; 

Citrus-orange rind

Nut- misc. indiscriminate nutty aroma

Herbal- lemon-pepper

 Earthy-pine

 Musk- underlying Afghan Hash scent
TASTE;
Sweet-berry

Herbal-sage/wild sage/purple sage

Fuel- Afghan hash-like taste upon exhale

Spice- pepper
APPLICATION (MEDICINAL +RECREATIONAL):
MED;
could help in mitigation or alleviation of symptoms caused by:
ADD (Attention Deficit Disorder)

Depression

Anxiety

Sleep Disorders/ Issues

Eating disorders/loss of appetite
REC;
Could lend itself to the enhancement of:
Creative activities/pastimes depending on dosage and level of physical and mental energy at time of ingestion

Repetitive work that requires sustained focus and effort (painting, needlepoint, etc.) *but most likely you'll be up for something more engaging.

Working out (pre maybe/ post definitely

Gaming *not a gamer per se but I have enough to know this would be great

Watching movies

potential hike-and-chill strain
"Between the cerebral stimulation and the overall elevation in mood, OGKB has more Sativa influence than one might first assume given its name."
A CLOSER LOOK INSIDE:
What we can see here is a decently high level of Beta-Myrcene at .57%. Equally abundant  levels of Limonene (.59%)and Caryophelene  (.32%) provide the groundwork for a fairly heavy-hitting experience. 
The Limonene has a definite degree of mood elevation and cerebral uplift, while that level of Myrcene is sure to soothe.

Between the cerebral stimulation and the overall elevation in mood, OGKB has more Sativa influence than one might first assume given its name.
CONCLUSION:
OG Kush Breath aka OGKB is a classic strain comprised of genetics from a Durban Poison X OG Kush and its effect is although deeply sedative overall, include an increase in mental focus and uplifted euphoria from its Durban landrace roots. With successive sessions this transitions into a more deeply felt physical relaxation that effortlessly transitions into a state of sedation and sleep.
THE LONG WAY HOME (MY TOKE…)
OG Kush Breath aka OGKB is an interesting strain. For one thing the name conjures visions of something closer to a pure Indica rather than the blend of Sativa and Indica genetics that it is. Even the looks of this strain seem to resemble more of an Indica Cush than a hybrid of Durban Poison.
However, once you experience OGKB you will have no doubt that inside this seemingly full tilt Indica has quite a few Sativa effects onboard.
For one thing, Its aroma and taste change as it is broken down and then combusted. Starting sweet and herbal it ends with spice and musk.
For another thing, and more importantly, I was taken by the increase in my ability to focus on detailed activities for extended periods of time. I also experienced a definite uplift in mood and the day's stress seemed to drift behind me without notice.
Overall, yes OGKB will take your down and lull you to sleep, but along the way you're going to be in an uplifted mood and probably get some things accomplished along the way down. I would definitely purchase OG Kush Breath again.